On the morning of 8 April 2020, Susan Acland-Hood, CEO of HMCTS, posted the information below on the Inside HMCTS blog.
Of particular note is the paragraph inviting the submission of questions (relating to the operational running of HMCTS during the coronavirus pandemic) in the comments section of the blog. HMCTS intend to field appropriate questions for 24 hours after publication and will then publish the questions and accompanying responses. To leave a comment, scroll to the bottom of the original HMCTS blogpost.
---
---
Responding to coronavirus in our courts and tribunals
Over the past weeks, so many have made heroic efforts to keep the justice system going for the people who need us. Court staff, the judiciary, legal professionals and all those who support court users have worked around the clock to explore and deliver extraordinary changes at great pace. I am proud at how we have united to keep the wheels of our courts and tribunals turning in the face of the unprecedented challenges that coronavirus has brought to our daily and working lives.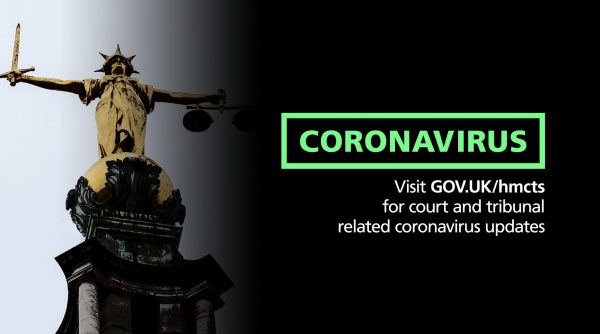 Right now, I wanted to pause and say thank you for the role you have played in bringing us this far.
Consolidating our courts and tribunals
We need to keep this essential part of our social and constitutional fabric in place – so that we can protect the public from crime and disorder, safeguard vulnerable children, and make sure that other critical decisions that affect liberty, safety and livelihoods can still be made. Both the Lord Chancellor and the Lord Chief Justice have written about the importance of maintaining a functioning justice system, too.
Senior judges, working closely with us, have made decisions to ensure we prioritise the most urgent cases and use our courts and tribunals in the most effective way to support them; as well as continuing less urgent work by other means where we can do so safely and well, recognising that every case matters profoundly to those involved.
All our courts and tribunals hear matters relating to urgent and vitally important issues such as the deprivation of liberty, public safety, and individuals' rights and welfare. Hearings related to such issues will always be prioritised.
On our buildings, we have consolidated our work into fewer locations for the duration of the crisis. Around 150 buildings will remain open to the public, ensuring that those essential hearings that must be held in person can still go ahead while complying fully with public health advice for all those who involved, including court staff, judges, jurors, witnesses and legal professionals.
By having fewer physical hearings in fewer courts, our cleaning and security contractors will be able to focus their efforts more effectively on ensuring social distancing rules apply and creating a clean environment with handwashing and sanitising available.
We know that people will be particularly concerned about hygiene at present. In addition to our "out of hours" cleaning, we have introduced extra cleaning measures to ensure our court and tribunal buildings are safe to enter and work in during the coronavirus outbreak. These include introducing more than 150 additional cleaners into courts and tribunals that are open to the public, who are carrying out additional cleans of those surfaces most used throughout the day, while supplies of soap and paper towels are also being checked frequently.
We've also put in place measures to ensure people can follow Public Health England guidelines in our buildings including, maintaining a 2m distance from others. These will vary in our buildings depending on layout, but might include staff advising you to leave empty seats between you and other people in the waiting area, as well as letting you know when you can safely enter or leave courtrooms, to avoid cross-traffic in the doors and restrict the number of people in court in the public galleries at any point in time.
Video and phone hearings
These arrangements have been developed in close partnership with the judiciary and others in the justice system and have included a rapid expansion of audio and video equipment in courts and tribunals. In just two weeks, there has been an 800% increase in the number of hearings held using such equipment and there are now more fully video hearings each day than those taking place in person. There's more to do to make sure we have the right arrangements, technology and skills in every bit of the system to do this as well as we can – and we're continuing to work on upgrading the systems we're using, and learning rapidly from what's been done so far.
Much of this work is being supported by colleagues and judges working out of 'staffed' buildings, which are closed to the public but are providing essential services. In jurisdictions in which there are still paper-heavy processes, this arrangement is also enabling us to avoid moving large amounts of paper between sites, as well as avoiding concentrating too many people in a small number of buildings.
Further information
Those courts and tribunals not designated as open to the public or 'staffed' have been temporarily closed and will not be used for the duration of the crisis.
The nature of the public health emergency means that the numbers and locations of open, staffed and temporarily closed courts may be subject to change, but we have published the most up to date list on our GOV.UK pages, and reflect this information on our courts and tribunals finder.
Open Justice
Media and interested parties continue to be able to attend physical hearings in the 'open' courts to uphold the principles of open justice. Where this is not possible, judicial consideration is being given to enable new ways for journalists to join a hearing remotely, or a receive a transcript afterwards. We are continuing to work to develop ways in which we can continue to support media and public access to the work or courts and tribunals.
Working together
Throughout this crisis, we have kept in close communication with legal professional bodies and other user groups to ensure we understand their concerns and can receive their expert advice. We have been hugely grateful at the way all these groups have responded to the crisis and we will continue to engage them closely throughout the next few months.
There will be many questions from practitioners and court users about the arrangements we have put in place, and I want us to ensure that we are doing all we can to address and answer them.
Please use the comments function below to ask us questions and we'll provide answers to those that focus on the operational running of our courts and tribunals at this time. As things are moving quickly, we'll keep this open for the next 24 hrs and will consolidate questions if we get lots on the same theme. This will enable us to provide answers that reflect the situation as it is right now, and if this becomes a useful mechanism for you and a manageable exercise for us, we'll look at running it again in the future.
Meanwhile, thank you again. In testing times, people from all parts of the system are pulling together to keep the justice system working.